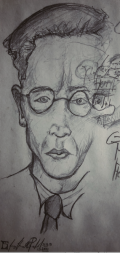 Serendipity
Gleichzeitig erfunden und gefunden umkreist der Begriff Serendipity den Zufall und dessen Wahrnehmung. In dieser Wahrnehmung wird das Suchen vom Finden übertroffen. Konkreter: wer den Seeweg nach Indien sucht, mag auf einen unbekannten Kontinent stoßen. Wer hochsensible Antennen testet, mag die kosmische Hintergrundstrahlung entdecken. Wer die konkreten Ruhepunkte des Zufalls betrachtet, mag reiche Geschichten entdecken.
Das Projekt Sweet Serendipity (2023) sammelt Gedanken um den Zufall, gefunden durch Zufälligkeit. Drei Prinzipien moderieren dabei diese Zufälligkeiten.
1. Buchstaben- und Tonfolgen werden zu Zahlen; Zahlen zu Kartenkursen und Koordinaten. Kartenkurse werden zu Punkten in der Landschaft. Dort, wo sie auf Menschen treffen, werden sie zu Postkarten und Briefen. Menschen werden zu Adressaten, Zufall zum Adressierenden.
2. Der Blick über Satellitenbilder sucht Haltepunkte. Dort, wo das Auge im scheinbaren Nichts ein Etwas entdeckt oder aber in der Fülle Ruhe sucht, geht die Nachricht ein.
3. Postkarten, abgelegt in Büchern, Partituren, an bemerkenswerten und konturlosen Orten, finden ihre Adressaten.
Sie -Menschen- haben Post erhalten, die nach dem prägendsten Zufall fragt. Sie teilen, was Ihnen behagt. Sweet Serendiptiy arrangiert die gesammelten Eindrücke zu einem sich erzählenden Gesamtgedanken.
-------
Invented and found at the same time the term serendipity encloses the coincidence and its perception. In this perception, seeking is surpassed by finding. More concretely: Whoever searches for the sea route to India may come across an unknown continent. Who tests highly sensitive antennas, perhaps discovers the cosmic background radiation. Those who explore the concrete resting points of chance may discover rich stories.
The project Sweet Serendipity (2023) collects thoughts around chance, found through randomness. Three principles moderate these coincidences.
1. letter and sound sequences become numbers; numbers become map progressions and coordinates. Map courses become points in the landscape. Where they meet people, they become postcards and letters. People become addressees; chance becomes addressing.
2 The view over satellite images searches for stopping points. Where the eye discovers something in the apparent nothingness, or where it seeks rest in the abundance, the message arrives.
3 Postcards, deposited in books, scores, in remarkable and contourless places, find their addressees.
You have received a postcard or letter that asks about the most formative coincidence in your life. You share what is pleasant to you. Sweet Serendiptiy arranges the collected impressions into a narrative overall thought.